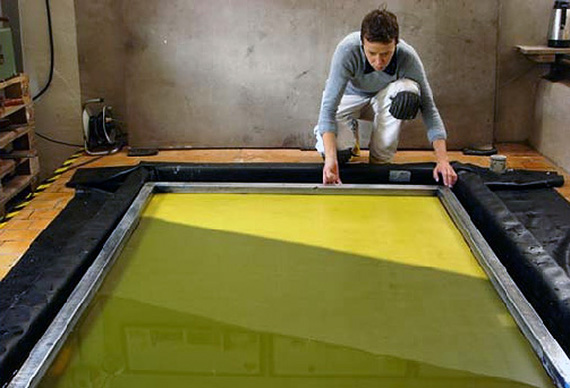 Während viele Gestalter mit vorgegebenen Materialien arbeiten, wird für LICHTPAPIER das Grundmaterial selbst gemacht. Die Herstellung des Papiers erfolgt nach europäischer und asiatischer Handwerkstradition.
Die vorbereiteten Lichtleiter werden bereits während dem Prozess der Papierherstellung integriert, so dass sie von den Papierfasern umschlossen und somit in der fertigen Fläche gehalten werden. Trocknet das Papier fest auf dem Sieb, bleibt es glatt. Die Formen entstehen in einem gesteuerten Kampf zwischen den sehr gegensätzlichen Materialien in verschiedenen Trocknungsphasen, wobei das Ergebnis zum Teil wetterabhängig ist.
Papier und Innenarchitektur
Der Stellenwert von Papier liegt in der westlichen Kultur, im Gegensatz zur japanischen Tradition, die Papier als etwas Edles und Poetisches begreift, eher im praktischen Gebrauch.
Die Herausforderung besteht darin, Papier "salonfähig" zu machen, eine Begeisterung für das Material zu entfachen. Zart, vergänglich, unperfekt Anmutendes hat durchaus einen Platz neben Beton, Holz, Glas oder Stahl. Das Licht verstärkt diese Eigenschaften, ohne selbst zu stark in den Vordergrund zu treten.
___________________________________________________________________________
While many designers work with given materials, the basic material for LIGHT PAPER is artisan made. The preparation of the paper is drawn from both European and Asian traditions.
The prepared optical fibers are already integrated during the papermaking process, so that they are enclosed by the paper fibers, and thus held in the finished surface.
The paper is held firmly on the sieve as it dries, which ensures a smooth surface.
The textures are produced in a controlled fight between the very contrasting materials in various drying phases, the result is in part dependent on the weather.
Paper and Interior Design
The value of paper lies in Western culture in its practical use , as opposed to Japanese tradition where the paper is seen as more noble and poetic. The artists challenge is in making the paper appear more fashionable, and to generate enthusiasm for the material. Delicate, transient, imperfect-in appearance, paper certainly has a place next to concrete, wood, glass or steel. The light enhances this effect, without dominating.